We're entering the next revolution of the retail industry – the adaptation of hybrid shopping. With the shift to on-line shopping, and the decline in bricks and mortar, retailers are not picking a channel; rather they are trying to service both.
To maximize the bricks and mortar investments they want to keep, winning retailers need new ideas to generate foot traffic to these spaces and figure out how to help customers shop how they want, put stores where they matter, and make stores matter more.
Here are some ways retailers should look ahead…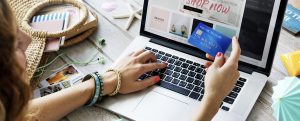 Keep the Touchless Options
Today's strong retailers know that all purchasing and pick-up options are now table stakes. Just as our work lives have become hybrid, so must all our retail experiences. A 2022 study on retail habits from the Lionesque Group and MG2 states that nearly 80% of customers want and expect BOPIS (Buy online, pick up in-store) in most stores: 45% deem it critical, 30% want to be able to order ahead, and 20% want to avoid shipping costs. Retailers of the future need to keep all the new hybrid options available and staff for them accordingly.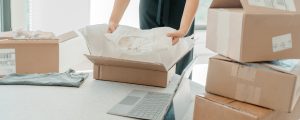 Reduce Returns
The National Retail Federation reported in 2022 that over 15% of online purchases were being returned -that's quite a cut into margins.
To improve the return rate, online retailers are now enhancing their UX to help customers choose more accurately. For example, many fashion companies are upping their game when it comes to making selections: Patagonia shows videos of how their clothing is worn in real life; Madewell features the same garment on many types of models. Andie, an on-line swimwear company, provides guides and experts to help consumers find what they are looking for -from bustline support to bottom coverage. This enhanced UX gets as close as possible to a personal shopper that will tell you: "That looks great on you!"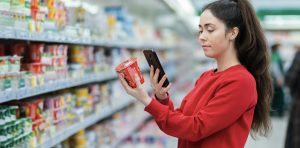 Get Phygital
Phygital display experiences, using touchless technologies like QR codes, are taking hold in stores. Customers now understand the 'Scan Me' call to action on a display and are comfortable shopping with a smartphone in hand. These in-store communications are much less expensive than older retail investments -like off shelf displays and digital screens -that once cost thousands of dollars per store. Phygital communications are also easily changeable and measurable.
Examples of phygital experiences that enhance the shop and extend the brand are:
• In-store limited time promotions
• Product information: recipes, origin stories
• Usage ideas: How this cheese is the centrepiece of your cheeseboard
• Link to videos of fashion shows, celebrity endorsements
• Lead generation ideas like newsletter sign-ups
• Surveys with prize entry incentives
• Store locator maps
• Link to brand website to view extended product offer
• 'First in line' offers for future launches or promotions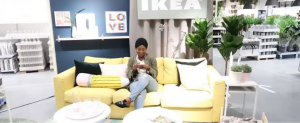 Fewer Shelves and Boxes, More Showbiz
Aisles of shelf storage and cases piled high in-store have given way to micro-fulfilment and keeping inventory out of site. Rather than loading shelves for staff and customers to wander and search, retailers can reconfigure their square footage to create spaces that serve different needs. These services and events are 'retail-tainment' and create new and novel customer experiences:
• Create a Showroom: Retailers can re-imagine store footprints to create showroom experiences. Remove aisles to create product demo centres that might include kitchens, living spaces, larger more comfortable fitting rooms, media centres to advance product learning or relaxation and consulting areas. Such showrooms could include AR experiences that could, for example, bring to life the rink side play with skates a customer is trying on.
• Premium Service: It's possible to make appointments for all kinds of services; beauty services, fitness, or at Apple's genius bar. It's time these time-saving opportunities spread further. Like bridal dress fittings celebrated with champagne, personal shopping appointments can make customers feel pampered and special.
• Connectedness: Retailers can even create new ways for the community to come together for a cause. Examples include evening tailgate parties in grocery parking lots, sleep workshops in mattress stores, trivia games and store shopping sprees. Instagram – worthy settings at events inspire reasons to share the brand experience.

Rethinking Retail to Revitalize Local
Shifting footprints in retail are part of many changes in community landscapes. Many communities find themselves with hollowed-out malls or out-dated main streets or both, and yet there are many gaps in service and community requirements. As retailers re-think their square footage, can they support communities by accommodating some of these local service gaps?
• Thrift or consignment goods shops, and repair shops for clothes, shoes, and accessories can supplement the offer of large retailers
• Lifestyle retailers can create new offerings by creating sections for books, galleries for local artists or concert spaces
• Private partnerships can promote public space for mixed uses: right-sized office space for hybrid working, community needs such as day care, pet care and space for community groups. Is it time for new ideas in your retail network? The experts at the Fish Agency can help. Let's connect and talk about how we can serve your hybrid customers.