Right now, premium private brands are solving a problem. When there's inflation-fueled pressure on every consumer's variable costs, private brands answer the call: How do I control my weekly grocery and household bills and still have the quality I want?
According to PLMA, in 2023 private brands now have almost a 20% share of basket and sales are growing two times faster than national brands. Over 80% of consumers say they trust private brands, and compared to national brands, believe that they are better value.
It's time to power up premium private brands – by expanding product lines in depth, breadth, and distinction. Retailers are launching new lines that serve as stand-alone products, distinctive variations, or unique categories instead of simply being just "copycat" alternatives to category leaders.
There are several ways to get attention for premium brands. Here are 5 strong approaches to grow a portfolio.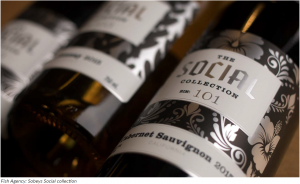 Challenge the Loss Leader
Private brands can provide a high margin punch in a category. But there are some categories where national brands still have enormous loyalty. This can be due to the evolving R&D requirements inherent in the category, such as cleaning supplies or diapers, or the tremendously powerful brands in snacks and soft drinks that spend huge media dollars for attention. But premium private brand products can do some heaving lifting to improve margins in categories that have dominating national brands. Consumers look for very high quality in these categories and need strong convincing to switch from a national brand to a private brand. Some premium brands are up to the task: Member's Mark produces laundry detergent, garbage bags and disinfectant wipes and Sam's Club is taking on the categories of frozen pizza and cola.

Simplify the Shop
A premium private brand with a distinct offer can really simplify a shop. Save-On-Foods' Only Goodness or Kroger's Simple Truth both communicate that they are 'free from' specific ingredients, potentially saving shoppers several minutes of label-reading products on the shelf. Kroger's Simply Truth helps shoppers navigate with icons: free trade, free from, natural and organic. Save-On-Foods' Only Goodness products have easy-to-read labels and are free from 150 ingredients: QR codes reveal what is not in the formulation. Safeway's Open Nature and Target's Good and Gather brands also offer ranges with better-for-you formulations. And at Waitrose, vegan shoppers can find a brand called Plant Living: it serves as guide for vegans looking for easy choices and vegan ready-made foods including salads, complete entrees, and desserts such as cakes and biscuits.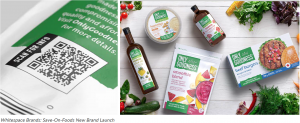 Lead Sustainability Credentials
A retailer that wants to make a statement about its sustainability goals will be well served by a premium private brand. Such goals can be both ambitious and diverse; from promoting fair trade goods and sustainable ingredients to enforcing policies on vendor packaging. Sam's Club created a brand that helped give visibility to their "mission in action" in Member's Mark, communicated as "Made with Members and Planets in Mind". Member's Mark products, from food to textiles and hard goods, are aligned to the company's stated sustainability goals. By putting their investment in their own research and development, the Sam's Club team is not waiting for other vendors to catch up.
This is a strategy also employed by better-for-you organic grocers such as Natural Grocers, Sprouts and Whole Foods. Under their 365 brand, Whole Foods offers more than 3,500 products that, in their own words, "not only meet our already strict standards, but also in many cases go above and beyond what we require of other brands". Natural Grocer is a western retailer selling organic food and health products, with a manifesto entitled "What We Won't Sell and Why": the list includes artificial colors, flavors, preservatives, and irradiated food and more. The Natural Grocer premium brand makes good on their promise and offers multiple products in key pillar categories: grocery, paper, household, bulk, and supplements.

Waitrose sells Waitrose Duchy Organics. The brand, a partnership with Duchy Organics, now with the tagline "Good Food, Good Farming, Good Causes", was originally established in 1990 by King Charles III to support British organic farming. The brand still supports and promotes organic farming and fair-trade organic practices with the sales of British meat, cheese, and local produce, imported fair trade items such as bananas and coffee, as well as groceries that include biscuits, ice cream and ale. A percentage of profits goes back to helping farmers continue to learn new sustainable farming practices.

Be the Best Expert
Flex your expertise with powerful niche category brands. Consider Canadian Tire – a Canadian national retailer with a blended offer of hardware, outdoor goods, and automotive supplies. Canadian Tire describes their portfolio of private brands as being designed to create a "distinct, home-grown competitive advantage." For example, under the premium brand MotoMaster there are 600 products designed to maintain cars travelling Canadian roads in all weathers. Their Woods and Outbound brands offer products to celebrate the great outdoors, from tents to boots and trampolines, and Yardworks has everything for four-season outdoor maintenance.

Another example of a premium private brand that adds distinct value is Waitrose 's Cooks Ingredients. Waitrose wants UK home cooks to think of their stores as the destination for the full basket of ingredients required for all their recipes. Cooks Ingredients offers more than 500 items ranging from truffle butter to sausage crumb, and focuses on home baking, herbs and spices, and ingredients that are part of international cuisines across the globe.

Building and Celebrating Community
Member's Mark premium brand is also an example of how a brand can build community. The promise of the name is paid off by tapping into the engagement potential of their registered members and getting their help to design products. Supported by a 40,000 strong community, the Member's Mark Brand leaders have an engaged consumer base to provide insight and input to optimize research and development.
Premium brands can also lead distinctive marketing campaigns and promotions for their banners. A good example is Schnucks' "Fan Favorite Awards", a celebratory and tongue-in-cheek marketing campaign designed to recognize the best among Schnucks' premium brand products. Designed to illuminate award winners, the campaign puts a spotlight on premium brand products such the "Howling Good" Award for Schnucks Coyote Track Ice Cream or the "Perfect Wingman" Award for Schnucks Dipping Sauce.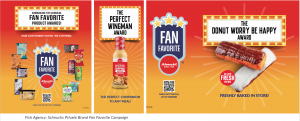 Premium private brands even helped celebrate a nation's birthday. The Sobeys chain celebrated their 110th anniversary the same year that Canada celebrated its 150th birthday. To contribute to the festivities, the Sobeys private brand team created unique maple leaf shaped products: maple flavoured cream cookies and hamburger patties. When the party was over, Sobeys was recognized by Leger Research as the most relevant grocer during Canada's 150th event celebrations.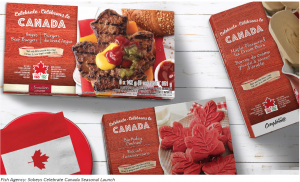 We can help your your premium brand can get a power boost!
Let's chat. Contact the Fish Agency.